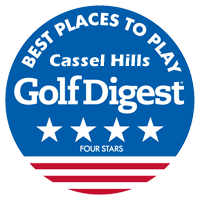 At Cassel Hills, Two Distinct Nines Mean that You Get Two Courses for the Extremely Modest Price of One!
"Four Stars!" - Golf Digest Places to Play
Most golf courses offer a consistent look and feel from start to finish. And there's nothing wrong with that except that it can become a bit boring, especially if you play the course several times a week or month. Well, nobody will talk about golf at Cassel Hills being boring. Ever.
Links Golf. Mountain Golf. All in One Package. The front nine at Cassel Hills is relatively flat, while the back nine is hillier. So golfers get to play two different golf courses in one round. And with five par 3s, the course plays longer that its yardage. Opened in 1974, Cassel Hills has never been an easy course and when Cassel Hill regulars play in local and even state tournaments, they tend to fare well because Cassel Hills requires total concentration and commitment from the first tee to the last green. However, the higher handicap golfer or beginner should not feel that the course is purely for the better player. Played from the correct set of tees, the course is still playable, and, most importantly, enjoyable.
Get Your Lag Putting Boots On. Good scoring at Cassel Hills begins with a solid game from tee to green but perhaps the key to consistency at Cassel Hills is routinely excellent lag putting. That's because the greens at Cassel Hills are large, averaging about 6,000 square feet. The size of the greens also makes club selection in the fairway especially important. However, the golfer who can get around Cassel Hills in thirty or fewer putts has something to celebrate.
The Guy Who Did the Greens at Firestone! In the mid-1990s, Cassel Hills hired a young and talented architect, Craig Schreiner, to rebuild its greens and renovate other areas of the course. Schreiner has since built an extremely impressive portfolio of design, restoration, and renovation work including perhaps the most famous course in Ohio—Firestone Country Club in Akron. With a solid foundation and sound design work, it's no surprise that the bentgrass greens at Cassel Hills are among the best in the Miami Valley. In the fairways, Cassel Hills maintains bluegrass fairways which provide more consistent playing conditions year-round and are easier to maintain than bentgrass fairways.
The Right Place at the Right Time. Before the renovation, Cassel Hills was a power-golfers paradise. That has changed somewhat and today, Cassel Hills is a strategic golf course that favors placement over raw power. A sound short game is vital at Cassel Hills and golfers who play the course regularly soon discover that they score well when they visit other courses—because they develop such a strong short game at Cassel Hills!